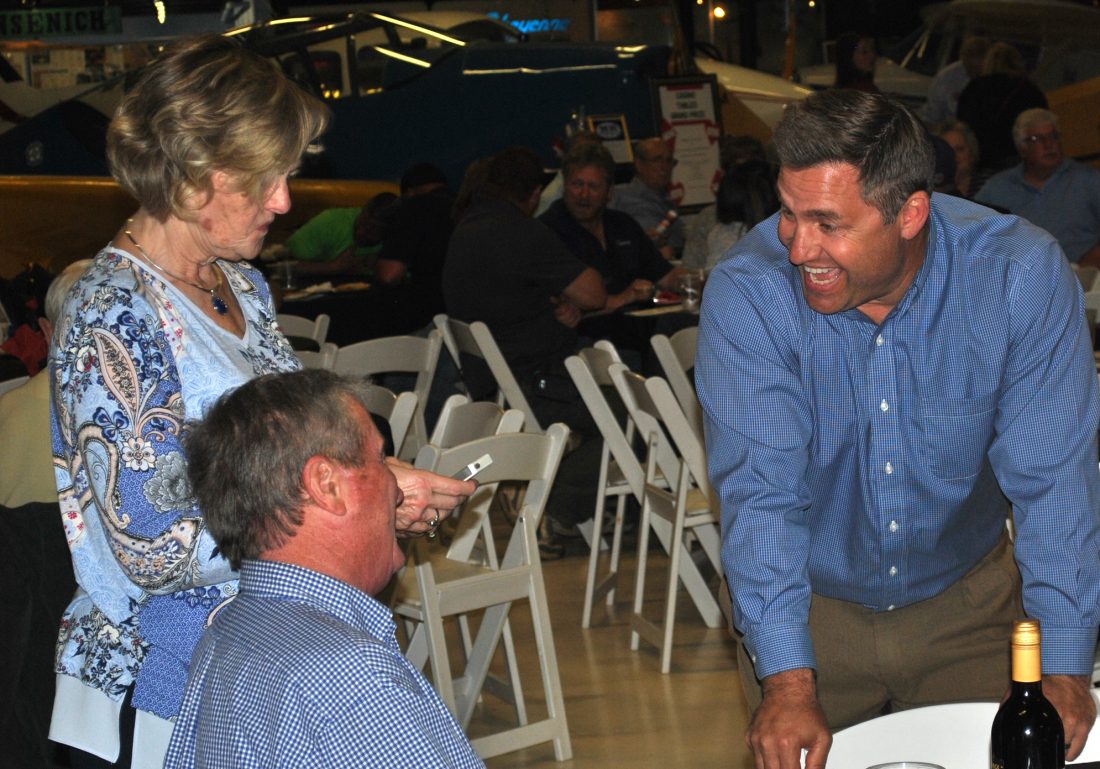 LOCK HAVEN — The Piper Aviation Museum was the place to be on Friday night.
More than 200 people filled the museum for the Eighth annual Sports Night and Fine Arts Auction to benefit the Clinton County United Way. Executive director Maria Garlick was thrilled with the response.
"It was an awesome night," Garlick said. "The (live) auction items went for more than we expected and the silent auction was a hit. We created a new way for everyone to check out and it was very successful. It was a really, really good night."
As of press time, Garlick did not have final numbers on the amount of money raised.
The United Way honored Lock Haven native and former professional baseball player Joe Caruso, who made the trip from Tennessee. He kicked off the night with a short speech, thanking all those who came out for the United Way.
"This is a great honor," Caruso told the crowd. "This room is filled with love and you can really feel it."
Garlick said that honoring Caruso was a no-brainer.
"That man is amazing," Garlick said. "He's a native who does so much for our community. He came all the way from Tennessee. He's just a good, good man."
In addition to there being silent and live auction items, there was plenty of food, drink and prizes. The casino night-theme was a big hit as those in attendance tried their hand at different table games.
As for the venue, Garlick said she couldn't have asked for anything more. Guests mingled underneath classic aircraft, which hung from the rafters.
Garlick has personal ties to the venue as her late father-in-law is Bill Piper, Jr.
"This venue is near and dear to my heart. It has great ambience. You just can't beat this," she said.
The event, which began around 6:30 p.m., lasted until 10.
Garlick said none of it would have been possible without the efforts of some amazing people. She thanked the staff at the Beech Creek hotel for the food, DJ Chet the Jet and all of the members of the United Way's Board of Directors for their efforts.
She singled out her assistant, Tracy Roberts, for her dynamic talent.
"Tracy and I think alike, we work really well together and we made it happen. I have a vision and Tracy makes it happen," Garlick said.
Although Garlick came on board at the United Way a month before last year's Fine Arts Auction, this one was truly her baby.
"This is really my first one," she said. "It went really smoothly. We got everything set up and organized in three days."